SURVEY 1: MONTHLY MEETING SURVEY ,ANALYSIS AND GRAPH DETAIL Summary
:
Member responses: 35 (out of 89 emails sent, a 39% response rate)
Frequency of meeting attendance
: 40% of our members attend all or most of our monthly meetings, 30% attend less often, and 30% rarely attend. Our goal is to provide meaningful presentations and meeting agendas that will attract and satisfy our membership, thereby increasing attendance.


Genres in which you write
: It came as no surprise that we have a mix of writers in our organization, with many plying their trade in two or three genres or categories. Genres of our members include memoir/non-fiction, as well as fiction, both novel and short story (from your membership applications, we're aware we have quite a diverse blend: science fiction, fantasy, romance, western and historical). Children and young adult authors are also well represented. Articles, essays, and screenwriting are also popular.


Publishing goals
: In line with a major goal of being a writer and not unlike any other writers' organization, most of our members want to be published. 63% want to land that national publishing house contract. 17% are more interested in the self-publication route. Many also consider being a hybrid author, having published works in both venues. We have a number of currently published authors in our guild, both traditional and self-published, covering several genres.


Topics related to Writing Skills
: The vast majority of our members ranked craft skills as most important, with editing and revision processes as next most important. Our goal is to provide presentations that include the basics to more advanced topics, geared toward a large audience of writers at multiple levels in their writing careers. Our Saturday workshops, offered several times per year, are great opportunities to hone specifics skills in a hands-on environment.


Topics related to Publishing
: Publishing is a very important subject to writers, as reflected in our membership responses. Marketing ranked as the highest topic, with the submission process and traditional publishing also very important. Members also have reasonable interest in self-publishing. Our goal is to line up speakers and meeting formats that will meet this need.


Other topics for monthly meeting agendas
: This year, we've added short readings by a selected member at each monthly meeting. By highlighting a featured member reader, our goal is to give our members exposure and experience in reading their own works. (Great practice for book signings!) It also helps us get to know each other and the types of writing we produce. We will also continue our tradition where, two times per year, our monthly meetings will feature multiple member readers.
News about upcoming writing contests and writers conferences would be welcomed and some members think that mini-workshops would be useful. Announcements and details about writing contests and writers conferences, upcoming events, including our Saturday workshops, etc., can always be found on our website:
www.centraloregonwritersguild.com
. We'll post Save-The-Date items on the white board at the monthly meetings.
We'll continue to tailor the meeting programs to provide benefit to our members based on time available. Future monthly meeting formats being considered include panels, small groups, and mini-workshops. We'll make announcements when dates and details are finalized.


Fee-based speakers
: 95% of member respondents would be willing to pay a fee of $10-$25 to hear the right speaker. We recognize that the quality of the speaker and the subject matter will drive attendance, but it's clear that almost all of our membership would be willing to contribute for the chance to learn from the right presenter. We will be on the look out for the right opportunity to host an awesome speaker relevant to writers, possibly as a special event with more time allocated to the speaker and his or her presentation.
Detail Response Data
Question 1: How often do you attend the COWG monthly meetings?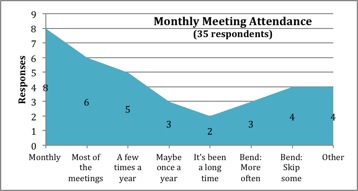 Question 2: In which genres do you write?
Question 3: Do you write for yourself or is your goal to be published for wide distribution?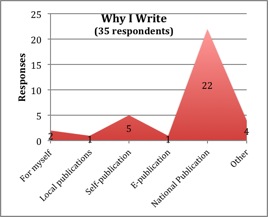 Question 4: Please rate each of the writing skills below in the order you wish to see them included in our monthly meeting programs. Marketing
Question 5: Please select those subjects regarding publishing & marketing that you wish to see included in our program.
Question 6: What would you like to see more of in the monthly meetings?
Question 7: Would you be willing to pay a nominal cover charge to hear a well-known speaker?