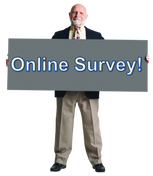 Welcome to the Central Oregon Writers Guild Survey page!
Here you'll find the latest survey results and the schedule for future surveys. Our surveys are focused on specific programs offered by the Guild. Each survey is targeted to take only a few minutes to complete.
We sincerely hope you participate in our survey program. The COWG Leadership Board wants to serve you better by ensuring the Guild 's programs meet your writing needs. One way to do this is to collect your input through these surveys.
If you have taken our surveys, we thank you. If you haven't yet, we hope you will soon. The survey program for 2014 is closed.
If you have any questions regarding the COWG survey program, please contact us at CentralOregonWritersGuild@gmail.com.
Survey Results:
Survey 4, 2014 Final, Membership Feedback

For the final survey of 2014, we decided to ask our membership how well we've responded to your input. The survey was released on October 1st, 2014 and closes on October 8th.
The detailed response results can be found
here
.
Summary
:
For the final survey of 2014, we decided to ask our membership how well our leadership board has responded to your input over the past year. The survey was released on October 1st, 2014 and closed on October 8th.
We received a response rate of 28% (27 out of 97 sent). While this is still above the typical 10-15% response rate for surveys in general, over time it represents an overall decline in responses for the year (39%->53%->37%->28%).
Survey Management:
We seem to be doing what we set out to do at the beginning of the year, and that is to improve the programs we offer in a manner that helps the membership become better writers.
We're happy to report that improvement has been recognized in all programs surveyed, including the use of the survey tool.
Leadership:
There is little disagreement that the board is doing a good job, although a few responses indicated we could use some fresh ideas. A small percentage, but not enough to implement the idea, would like to see an election of board officers.
Communications:
By an overwhelming margin, members use emails for gathering notifications and news of Guild events. A large number don't seem to follow our Facebook page or the COWG website for notifications, although we're convinced the website has other important uses, such as gathering additional news and/or connecting with other authors.
Most respondents aren't at all interested in using Twitter.
Monthly meetings:
The monthly meeting programs have become a highlight for members, with all facets being rated highly. Topics, panels and guest speakers have been well received. We understand that the guest speakers need to be well informed about our goals and wishes, and the Guild will continue to seek quality guest speakers who meet members' expectations.
The Bend meeting location received the highest number of "Low" responses, but only 15% (4 out of 26).
Writing Contest
Respondents were enthusiastic about the changes we've made to the Annual Harvest Writing Contest, which received high marks across the board. Modernizing the payment and submission process has been well accepted, and there was little dissatisfaction over including all Oregonians.
Workshops:
There's overwhelming agreement that we have provided quality workshop speakers/presenters; half the respondents would like to see the current speakers supplemented with new ones. The subject matter presented at the workshops is well regarded.
Less than a third of respondents agree there's too much emphasis placed on critique. Half disagree with that notion, and prefer critique practice remains a key ingredient of the workshops. From the comments, there's about an even split between wanting more craft vs. more marketing subject matter.
Facilities
By a 2-1 margin, the respondents prefer the monthly meeting program is held in Bend. This can be verified by the increase in attendance since we moved the meetings. It's 50-50 that the Redmond workshop location works for the respondents.
A very large percentage is happy with the refreshment policy.
Dues:
Just over a third of respondents are fine with the current dues amount, while over half would be okay with raising dues up to 50% if it means improving speaker selection.
As of this posting, the board is planning on a small, yet currently undetermined increase in annual membership dues, to be effective January 1, 2015. The board is excited about the additional opportunities the increased dues will provide members, including an industry-known speaker/event each year.
Volunteering:
We appreciate the useful feedback we received regarding volunteering. We recognize that we're all pretty busy and our time is valuable and limited, as indicated by the responses. Finding time to write and work as a volunteer can be difficult.
There were good suggestions on how to let the membership know in more detail about volunteering opportunities. Many of the commenters feel that if they knew specifically when and what they'd be volunteering for, and for how long, they might find the capacity to help.
We think that's a fair proposition, and hope to make volunteering part of the COWG culture by advertising our volunteer openings/requirements. We plan to add a new page to our website clearly labeled "Volunteer Opportunities," accessible through a hot button on the home page. The new page would post specific opportunities with descriptions of the tasks involved, when it would occur and the expected time required to complete it.
We'd like to supplement the webpage with our own "Volunteer Guru," who will be the Guild's voice for opportunities to help out.
Final comments:
We received final comments from a large portion of the respondents. Besides those commending the board individually and as a group, a common theme surfaced: you'd like the opportunity to get to know other members. The board recognizes this request, and will provide opportunities to get to know your fellow writers in 2015.

Survey 3, Critique Workshops

Our third survey, focusing on our Saturday critique workshops, was released on July 1st, 2014 and closed on July 8th.
Your comments were extremely positive overall. Not only are you learning more about your craft and the practice of critiquing from our workshop series, you seem to be enjoying them too!
A total of 35 members responded out of 96 surveys sent, a response rate of 36.5% (a slightly lower response rate than previous surveys).
The detailed response results and a summary analysis can be found
here
.

Survey 2, The Annual Writing Contest

We released our second survey, focused on the annual writing contest, on April 7th, 2014. If you'd like to see the detail behind our analysis, click here.


We received even a better response rate than the first one—this time an astonishing 53%!
We're excited about the next iteration of our annual writing contest! Based on your valuable feedback, we're already working hard to make it the best in the region. To visit our Annual Writing Contest page click
here
.
We also look forward to reviewing each of your entries! Happy writing!


Survey 1, Meeting Programs.

Or first survey in 2014 was distributed to COWG members and potential members on February 24th. The focus for this survey was our Monthly COWG Meetings. If you'd like to see a graphic depiction of your responses, and the analysis summary, click
here
.
We received a very favorable 35 responses from 89 emails sent out to our membership (our membership has since increased!) The 39% response rate is well above the typical 15-25% rate seen on most surveys.
As a reminder, we are a volunteer organization. We've accomplished much with the few who have given their time in support of Guild programs. We'd love to see more members come forward to assist in current programs, or implementing new activities developed as a result of these surveys.
Future Surveys and Schedule:
The response period for our surveys will be one week, i.e., the survey will be closed a week after the issue date, and we'll no longer accept responses. We hope to post survey results within a couple of weeks of the final response date. Of course, we'll be sending you emails for each of the important dates unless you elect to opt out of the survey process. (If you opt out, as a member you will continue to receive other COWG-related emails.)
Be sure to look for the next survey around the date indicated.
Our schedule
(dates in italics are approximate)
:
---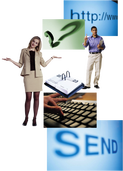 Number Survey Focus Issue Date Survey Closed Results Posted
2014-1 Monthly Meeting Programs 24 Feb 2014 3 Mar 2014
24 Mar 2014
2014-2 Literary Harvest Writing Contest
7 Apr 2014
14 Apr 2014 9
May 2014
2014-3 Critique/Other Workshops
1 Jul 2014
8 Jul 2014
24 Jul 2014
2014-4 Membership Feedback
1 Oct 2014
8
Oct 2014 29
Oct 2014
---