SURVEY 4: GENERAL MEMBERSHIP SATISFACTION SURVEY ANALYSIS AND GRAPH DETAIL

Summary:
For the final survey of 2014, we decided to ask our membership how well our leadership board has responded to your input over the past year. The survey was released on October 1st, 2014 and closed on October 8th.

We received a response rate of 28% (27 out of 97 sent). While this is still above the typical 10-15% response rate for surveys in general, over time it represents an overall decline in responses for the year (39%->53%->37%->28%).

Detail Response Data
Note: For the purposes of simplifying the graphs, the responses that included "Agree" and "Somewhat Agree" were combined, as were the responses that included "Disagree" and "Somewhat Disagree."

Question 1: SURVEY MANAGEMENT: How would you rate the improvement of each of our current programs since the start of the calendar year?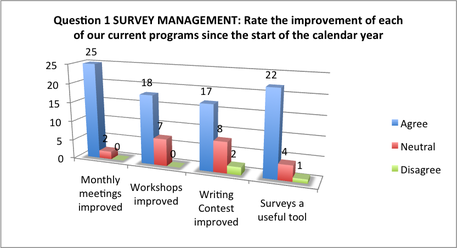 Question 2: LEADERSHIP: How do you think this year's leadership board has done in creating new opportunities to expand your role as a writer?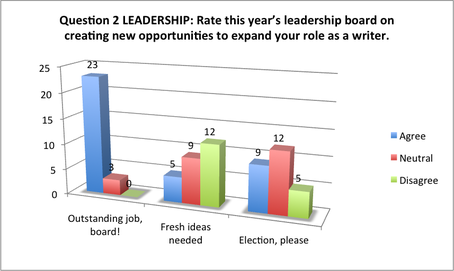 Question 3: COMMUNICATIONS: Newer members have stated that our email notifications work the best for them vs. news from our Website or Facebook page. How do you feel about the methods COWG uses for notification of events and Guild news?
Question 4: MONTHLY PROGRAMS: What is your satisfaction level with the following Monthly Meeting Program items?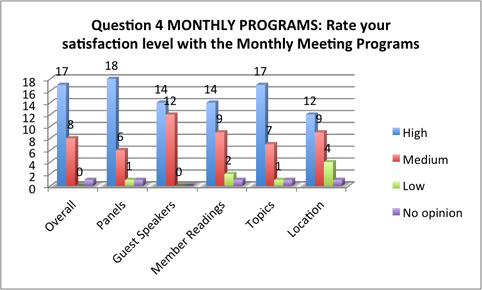 Question 5: WRITING CONTEST: We believe we've made some important improvements to the Annual Harvest Writing contest. Which of our changes do you think have enhanced the contest for the better?

Question 6: WORKSHOPS: How would you rate improvements to our workshops?


Question 7: FACILITIES: How would you rate our meeting places and refreshment policy?

Question 8: DUES: Guild dues have not increased since 2005. We're pretty sure the cost of membership is very low versus the value it brings. Please give us your thoughts about Guild dues.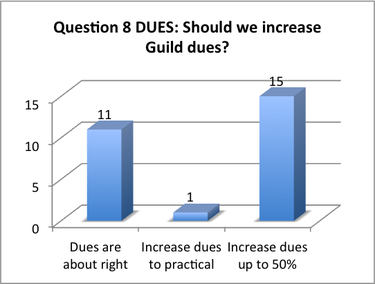 Question 9: VOLUNTEERING: The COWG functions solely through the time and effort of volunteers. COWG membership has doubled in the past few years, and newer members articulate that they enjoy the programs and benefits. However, there has been little increase in the number of members who step forward to volunteer and/or become leaders. Help us understand why this is the case by rating the following reasons.