SURVEY 2: ANNUAL WRITING CONTEST SURVEY ANALYSIS AND GRAPH DETAIL

Summary:

Member responses: 41 (out of 80 emails sent, a 53% response rate)

We released our second survey, focused on the annual writing contest on April 7th, 2014.

Thank you for participating--we received even a better response rate than the first one—this time an astonishing 53%! Here's what you had to say:

Why we enter: The results indicate our members enter contests for a multitude of reasons. The most important? Adding to their author's resume (86%). Placing in a writing contest is a great marketing tool, and provides an agent or publisher one indicator of an author's skill, so kudos to you for recognizing it! Receiving judges' feedback (77%) also scored well in our poll. Additionally, high marks were given for the competition aspect, the personal challenge involved, and—just to have some fun.

How often we enter: Surprisingly, a plurality of our members have either not entered a writing contest in the past year (44%), or entered a contest only once or twice (44%). Of those that have entered a contest, almost half have entered both national and local contests. Many of these were fiction and/or short work entries.

The entry rate indicated above corresponds closely with those who have never entered the COWG's annual writing contest or entered it only one or two times. Yet our results also show that even though they haven't entered, or haven't entered often, they still intend to enter in the future. We strongly encourage your participation in the next event!

Of those members that have entered the COWG contest, almost half would enter it again. An additional 25% indicate they are considering a future entry. Even those who haven't entered expressed positive thoughts about the contest.

As far as our members' opinions on how many of us actually enter the contest, half of the respondents believe that less than 20% of our members submit entries. Another quarter believe there is up to a 40% entry rate. In reality, the member entry rate is often below the 10% range, so we encourage you to polish those drafts you've put aside and send them on!

Celebration event activities: We wondered if reading a winning entry in public is a detractor from entering the contest. Well, almost unanimously, the respondents stated they are willing to read their winning entries at our celebration event. Seventy percent even look forward to it.

Even though very few books were sold on the 2013's event evening, it seems many members would like to see books available. Still, over half would restrict sales to intermission and post-reading periods. Almost half agree that only Guild members should be allowed to sell books, while only a quarter think the sales tables should be placed in an area adjacent to the event instead of the event proper.

As an all volunteer organization, we were happy to learn that half of our respondents would be willing to help with various event tasks, while another 30% might be willing to help if the timing is right for them. We will be contacting volunteers in the near future.

We're excited about the next iteration of our annual writing contest! Based on your valuable feedback, we're already working hard to make it the best in the region.

We also look forward to reviewing each of your entries! Happy writing!

Detail Response Data

Question 1: How many writing contests have you entered in the last year?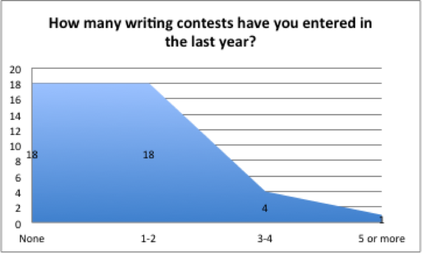 Question 2: Of the contests you entered last year, what kind of contest were they?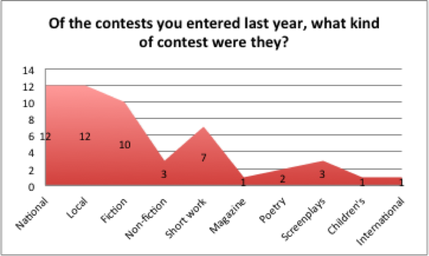 Question 3: How many times have you entered the COWG's Literary Harvest Writing Contest?
Question 4: What percentage of members do you think enter the Literary Harvest writing contest?
Question 5: If you've entered the Literary Harvest contest, would you enter again?
Question 6: What is your aim in entering writing contests?
Question 7: An important and unique aspect of the writing contest is the oral reading of each top ten entry by its author at the celebration event. What are your feelings regarding this tradition?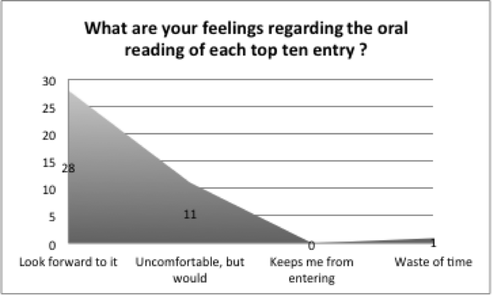 Question 8: Do you like the idea of being able to purchase local writer's books at the Harvest celebration event?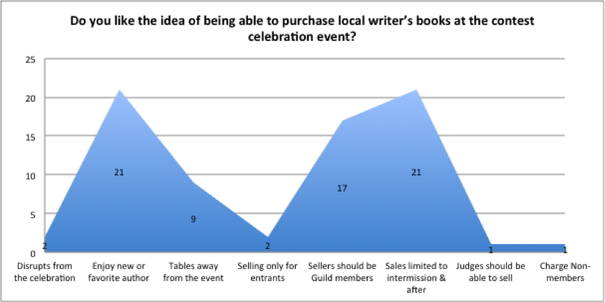 Question 9: Because the contest is a complex event requiring a large amount of coordination, we need support from the Guild membership to help organize the event. Would you volunteer to help?