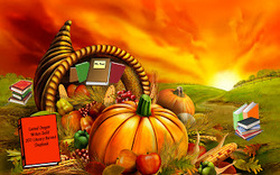 9th Annual Harvest Writing Contest


---
​Harvest Writing Contest Winners Showcase Event October 22, 6:30 – 9:30 pm

Congratulations 2016 Harvest Writing Contest Winners!
Youth Nonfiction: (First) Reese Ringo "Driving an Ice Cream Truck"
Youth Fiction: (First) Devin Riley "Ella's Secret" (Second) Sage Young "The Many Sizes of Courage" (Third) Joshua Erskine "The Necromancer"
Youth Poetry: (First) Lily Greenstone "Kinds of Hurt" (Second) Chloe Eberz "Black" (Third) Neve Gerard "Courage"
Adult Nonfiction: (First) Eric Marley "Number 8 and What it Means to be a Man" (Second) Breanna Snow "Playing Hostess" (Third) Lorna Hewitt "RAW EDGES"
Adult Fiction: (First) Larry Loudermilk "To Hold Her Hand" (Second) Mary Krakow "The Doll Collector" (Third) Patricia Barnhart "Ring"
​Adult Poetry: (First) Karen Brodsky "Setting Sun" (Second) Kathryn Bold "Cherries in the Snow" (Third) Ginger Dehlinger "Ghost Trees at Midnight"

In the 2016 Harvest Writing Contest Winners Collection, Central Oregon Writers Guild takes a new step forward by presenting the work of both adult and youth Oregon writers who came together to read their winning entries before an audience of friends, family and the Central Oregon writing community at the annual Harvest Writing Contest Showcase Event held each October in the city of Bend, Oregon.

Genres represented in these 16 winning pieces include Fiction, Nonfiction, and Poetry at the levels of both youth and adult. Enjoy the diversity of this multi-genre collection of short stories and poetry as you journey through the pages and follow the footprints of the authors sharing their passion in print. Celebrate local authors who are both established and emerging!

Central Oregon Writers Guild is an all-volunteer organization whose mission is to encourage, support, educate, and provide resources for Central Oregon writers at all skill levels.

Contributors (Authors): Patricia Barnhart, Kathryn Bold, Karen Brodsky, Ginger Dehlinger, Chloe Eberz, Joshua Erskine, Lily Greenstone, Neve Gerard, Lorna Hewitt, Mary Krakow, Larry Loudermilk, Eric Marley, Devin Riley, Reese Ringo, Breanna Snow, and Sage Young

---
Congratulations 2015 Contest Winners!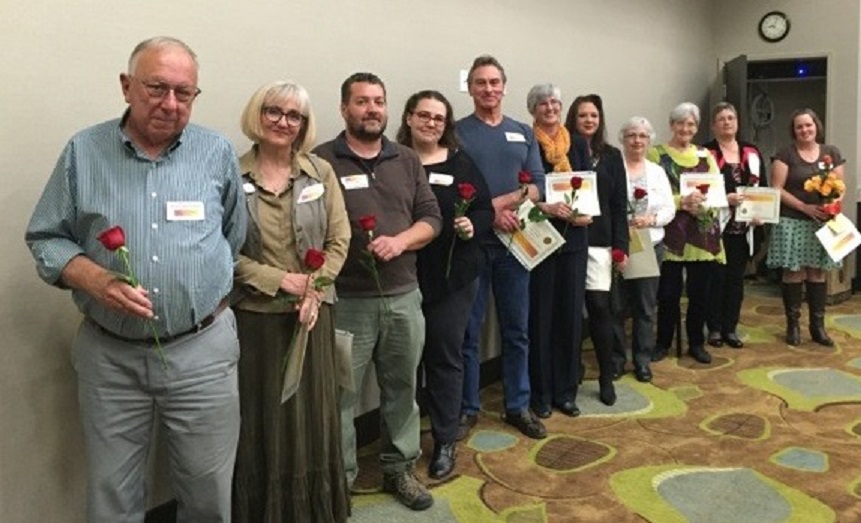 2015 Writing Contest Finalists Left to Right - Bob Vancil, Pat Tellinghusen, Dean Grosnick, Kristin Dorsey, David Horn, Mary Krakow, Eva Hulett, Ava Wilson, Elsie Rochna, Jane Lulay, Nickole Harris, (Missing is Burky Achilles)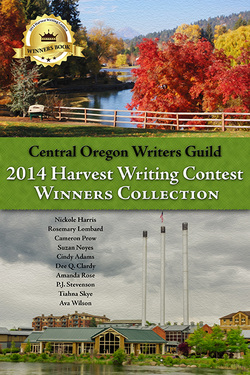 In this
2014 Harvest Writing Contest Winners Collection
, Central Oregon Writers Guild proudly presents the works of ten talented writers who came together to read their winning entries before an audience of friends, family and the Central Oregon writing community. The annual Harvest Reception is held each October in the city of Bend, Oregon.Genres represented in these ten winning pieces include Fiction, Science Fiction, Fantasy, Non-Fiction, Memoir, and Poetry.
Enjoy the diversity of this multi-genre collection of short stories and poetry as you journey through the pages and follow the footprints of the authors sharing their passion in print.
Winning Authors: Nickole Harris, Rosemary Lombard, Cameron Prow, Suzan Noyes, Cindy Adams, Dee Q. Clardy, Amanda Rose, P.J. Stevenson, Tiahna Skye, Ava Wilson
Books can be ordered through Amazon in print or Kindle versions. To order now, just click on the following colored hyperlink for your desired format:
Print | Kindle
---