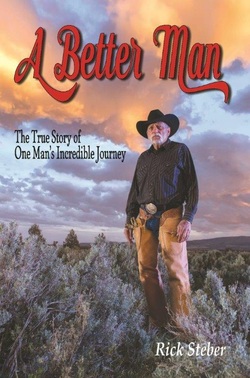 BIG NEWS – USA Book News, one of the most prestigious book awards in the nation, has just announced that Rick Steber's latest release, "A Better Man" is a finalist for the 2015 USA Best Book Award in the category of Health: Addiction & Recovery. Jeffrey Keen, President and CEO of USA Book News, said this year's contest yielded over 2,000 entries. He stated it was a distinct honor for "A Better Man" to have been named a finalist in 12th annual award for mainstream and independent publishers.

A BETTER MAN
Dave Franke might have been content to lead the life of a simple cowboy, but he believed in the American Dream, started a construction company and rode the crest of a building boom to the pinnacle of success.
When the Great Recession hit, he lost it all. He drowned his failures with alcohol. Then one day, out on the broad sweep of the desert, God and Satan had a fistfight over his alcoholic soul. This is a powerful story of profit and loss, of weakness and strength; a story of love, forgiveness, deliverance and redemption.

COWG member Tessa Bailey wrote a poem that is included in this book. Congratulations, Rick and Tessa!