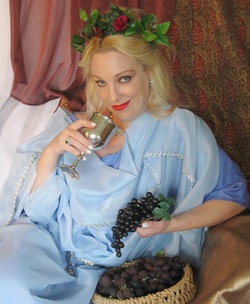 Playwright Suzan Noyes is offering a discounted rate of $14/ticket to COWG members for her new play 'Hot Spot in Pompeii,' produced by 2nd Street Theater and directed by Denice Hughes Lewis. Contact Suzan at art@suzannoyesart.com as soon as possible to take advantage of this terrific offer.

The new comedy premieres in Bend and will run from May 8th through 23rd (Thursdays, Fridays, and Saturdays at 7:30 p.m. with two Sunday matinees on the 10th and 17th at 3:00 p.m.) at 2nd Street Theater, 220 Lafayette Avenue, Bend.

Suzan offers this tempting description of what playgoers can look forward to ...Pompeii, 79A.D. WANTED: hot property near Mt. Vesuvius. An olive oil merger kick-starts with an arranged marriage between the Nobilius and Maxima families. Reluctant groom Harmonius and self-centered daughter Beautissima have other ideas. Sizzling family secrets and explosive Italian tempers blow Mt. Vesuvius sky high.