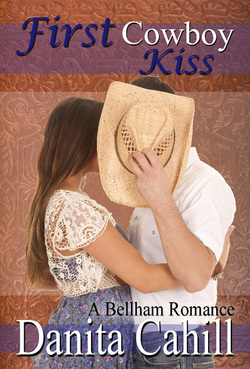 New Release – First Cowboy Kiss. Sweet, clean, heart-warming romance. $2.99 or free if you subscribe to Kindle Unlimited
. Here's what one Amazon customer said in her five-star review:
"I love this book. With the romance and the drama it is a good read. I can't wait for the next book in the series!"
http://www.amazon.com/FIRST-COWBOY-KISS-Bellham-Romance-ebook/dp/B00P8A1XT4/
FIRST COWBOY KISS
is a Bellham Romance Series Novella. It's a sweet, tender, "clean" story of young love. Bellham Romances all interconnect with characters and location, but each can easily be read as a stand-alone book, too.
MEET THE COWBOY...
Mia Donovan is lonely. Her best friend sets her up to meet a cowboy at the local Rodeo. But Mia is shy, and it takes all her courage to approach a cowboy that may, or may not, be the right one.
WATCH THE COWBOY RIDE...

Bareback bronc rider, Tanner Michaels, is definitely interested in Mia. But first he has a bucking horse to ride. He can't afford to let thoughts of Mia fill his head until those eight seconds are over.
Mia watches Tanner ride. Her nerves twist in knots when he's bucked off.
GET RESCUED BY THE COWBOY...

Later that day, it's Tanner's turn to worry when Mia, who can't swim, is knocked into the deep end of a pool. Tanner jumps in and rescues her. But why isn't she coming to? 
First Cowboy Kiss
is the third installment in the Bellham Romance series. The fourth,
Cowboy, Remind Me
, will be out in February, 2015!
For information about author Danita Cahill and her other books,
please visit her author page:
http://www.amazon.com/Danita-Cahill/e/B009NF74I4/
For new-release alerts, special content, free books and contests exclusive to subscribers,
sign up today for Danita's newsletter:
http://eepurl.com/bcnOsD
Find Danita on Facebook:
https://www.facebook.com/DanitaCahill
Follow Danita on Twitter:
https://twitter.com/DanitaCahill