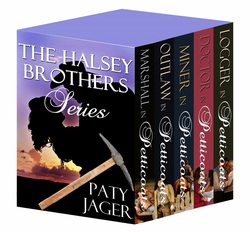 Halsey Brothers Series
- Five historical western romance novels set in Oregon in the 1800's.
Marshal in Petticoats
After accidentally shooting a bank robber, Darcy Duncan becomes marshal of a town as accident prone as herself. And she's not about to take orders from a corrupt mayor or a handsome drifter.
Gil Halsey discovers the new marshal is a passionate woman hell bent on proving the mayor is corrupt and dodging outlaws to clear her name.
Outlaw in Petticoats
Maeve Loman accepts Zeke Halsey's offer to help her discover the truth behind her father's disappearance even though she hasn't met a man who can keep his promise.
Zeke Halsey has wanted Maeve Loman since he first set eyes on the prickly schoolteacher. Offering to help her find her father, he hopes to prove he's not going anywhere.
Miner in Petticoats
Ethan Halsey is determined to fulfill his father's wishes to provide for his brothers. The only drawback is a feisty woman who refuses to part with the land he needs.
Aileen Miller has had two husbands. She isn't about to allow another man to dictate her life or the lives of her two children.
Doctor in Petticoats
Dr. Rachel Tarkiel gave up on love after a devastating accident and settled for a life healing others.
Blinded by a person he considered a friend, Clay curses his circumstances and his limitations. Can their love overcome their internal fears and the obstacles life throws at them or will a mysterious man keep them apart forever?
Logger in Petticoats
Hank Halsey believes he's found the perfect logging crew—complete with cooks—until he discovers Kelda Nielson would rather swing an axe than flip eggs.
Strong and stubborn, Kelda Nielsen grew up falling trees, and resents any man who believes she's not capable, until Hank.
You can purchase the Halsey Brothers Series box set at:
Kindle
Nook
Kobo