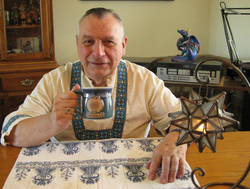 A presentation will be given at the next COWG meeting on the process of making the marionette show, "The Godmother and the Magician," from writing the play, to getting Czech marionettes and performing the 30 minute production. Please join us on January 21, 2016 from 6:30 to 8:30.
Dennis Strachota gave his first puppet show with the help of his parents when he was in the 4th grade. That talent lay fallow until after retiring when his interests turned to literary recording and activities. When Dennis got into storytelling, his interests in puppetry were renewed. His theatre, "Tendrak Theatre," now resides in the Portland museum. For more information, please visit
www.tendraktheatre.com
His first novel, "The Quest of Sir Marek," written under his pen name, Moudrý Povídkář (Moe-dree Po-veed-carsh and accent first syllables), will be published as soon as the cover is finished. Dennis is holding his fingers crossed, hoping it will be soon.