Date: Tuesday, March 24th, 2015 • 6:00-7:45 p.m.

Location: Brooks Room at the Bend downtown library,
601 Northwest Wall Street, Bend, OR

Free and welcome to the public.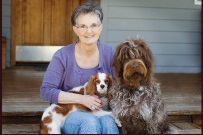 Writers of all genres will enjoy a free presentation by author Jane Kirkpatrick on Tuesday, March 24th. In 'Give Yourself Credit' Jane will offer six ways to increase pleasure and productivity in your writing life. This free meeting of the Central Oregon Writers Guild will be held at the Downtown Bend Library at 601 NW Wall Street from 6:00 to 7:45 p.m. (Show up 10 to 15 minutes early to guarantee yourself a seat at what promises to be a very popular meeting.)
Jane is the award-winning author of 27 books with over 1 million copies sold. Her titles have been New York Times and Pacific Northwest and CBA bestsellers. She's won numerous writing awards including the WILLA Literary Award and the Wrangler from the Western Heritage Center. A mental health professional, she speaks around the world about the power of stories in our lives. Her latest book,
A Light in the Wilderness,
was described by
Publishers Weekly
as "...indelible and intriguing...persuasive and poignant." She lives between Bend and Redmond with her husband of 38 years and two dogs. Visit her at
www.jkbooks.com
and sign up for her monthly Story Sparks newsletter.